Страница 2 из 2
Andris Dishlers
Varieties for wine
Amurensis based varieties
'Smugljanka'
Madeleine Angevine x Amurskij
Valentīna Grandāne, wine expert about Smugljanka wine
Wine from 2002, tasting at Febr. 2003:
"By appearance – red wine, with a warm tone of matured wine and frosted, smoked color. Aroma of overriped fruit and jam. Taste is not bad, but some disturbance of burned almonds (tends to be a portwine). The taste is not pure ("foxy")". pH 3.37
Varieties for wine Seedlings of 'Smugljanka'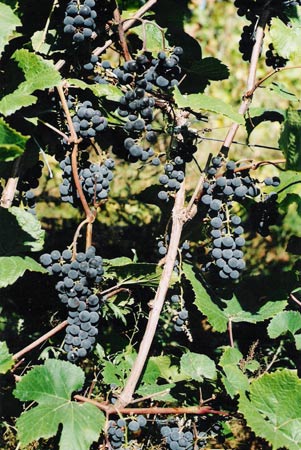 'Varnava-1'
(E.Pūpols)
Wine acidic, pH 3.06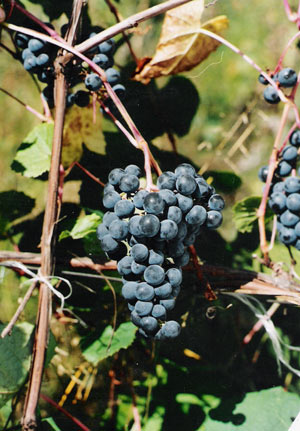 'Varnava-2'
(E.Pūpols)
Deep colored wine
with lot of pigments, pH 3.2, high taste value
Other varieties from Russia
'Kuzminskij Sinij' (CGL -02-5-43)
In his book G.Dobelis says: "There are grapegrowers who criticize it (P.Sukatnieks and others), because its juice is wine – like"...
Sample wine however was not found interesting, but juice has low TA and Kuzminskij Sinij was able to improve Zilga wine.
'Aljoshenkin'
V.Grandāne, expert : "pale rose color; impressive apple aroma, bitter-sour taste; oxidized empty aftertaste", pH 3.41
'Muskat Moskovskij'
V.Grandāne, expert : "diluted yellow-rose-brownish colors; smell of grape juice; wine is light, dry; 'monpansje' in taste; dark bitter aftertaste, impression is pure", pH 4.11
'Hasanskij Sladkij ' – wine is plane, light, co-fermented with Zilga makes balanced wine, pH 3.52, Brix 18
'Jubilejnij Novgoroda ' – strong, long keeping specific aroma, light body, pH 3.55, Brix 20-21
Varieties 'Severnij' and 'Avgustovskij Fioletovij' not tested in wine, but with "wine character"
Varieties for wineSukatniek's varieties
'Zilga', Brix 14-16, pH 3.2
"Not a wine grape" – is a dominating conclusion of many wine experiments throughout the countries
Findings about conditions improving Zilga wine: let berries ripen well, allow long skin contact in fermentation, use yeast with high exctracting ability, use other varieties to blend with Zilga - Hasanskij Sladkij, Kuzmninskij Sinij, Guna
'Guna'

Has been made in wine:
without skins, pH
with skins, pH 3.13
with double skins, pH 3.25
'Guna' in Wine
V.Grandāne, wine expert about Guna wines 1, 2, 3:

1. Without skins – "pale brownish-rose color of straw; sour smell, taste of live berries; balanced, but without aftertaste", pH 3.21
2. With skins – "diluted color of raspberries-strawberries; in aroma – intensive skins of winterapples; more viscous as other wines, acidity and bitterness in taste"3. With double skins: "by color – nice old fashioned rose; wine is not watery, with extracts; lacks live character of fruits both in aroma and in taste, domination of tannins, dry aftertaste"
Other Sukatniek's varieties in wine
'Sukribe' - neutral, wine for blendings, pH 3.5, no labrusca found in flavor
'Supaga' – aromatic with foxiness, pH 3.36 found interesting with honey as a sugar substitute for Brix correction
'Silva' (Gailiuna)
V.Grandāne, wine expert about Silva (2002) wine:
"light color of Burgunder, looks nicely, quite high level alkohol; aroma of wine, not more of grape; quite palatable, balanced, dry; behaves as wine
A.Fazekash's selections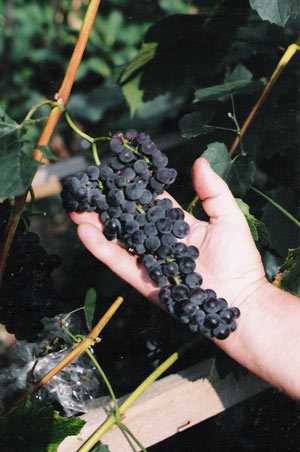 'Vidzemes Skaistule'
Rich in flavor, no wine in Latvia, Tom Plocher
made a wine in Minnesota
'Toldi'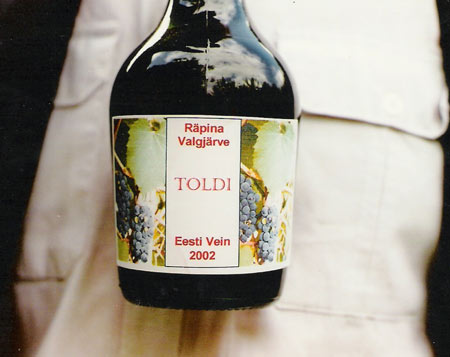 Small blackberries, accumulate high sugar, wine made in Latvia and Estonia, deep colored, pH 3.39
A.Fazekash's yellow colored selections with strong aroma
'Turaida' – small clusters, small yellow berries with thick flesh, very strong aroma.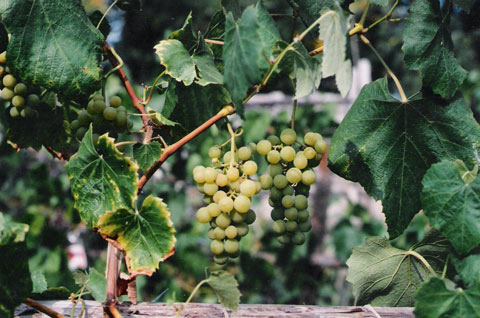 F-1-8-5 – well ripened berries
General conclusions
We are interested to develop our local Northern Wine based on local varieties. It is not excluded that Zilga can take the place of a kind of a basic local red variety for further investigation.
Technology and management of grape cultivation should be worked out for local grape wine industry